CRC Ambassador: Vikasini Veerni
| | | | | | | | | | | | |
| --- | --- | --- | --- | --- | --- | --- | --- | --- | --- | --- | --- |
| | Profile | | | Team Members | | | Fundraising | | | Service Project | |
Propfile
Vikasini Veerni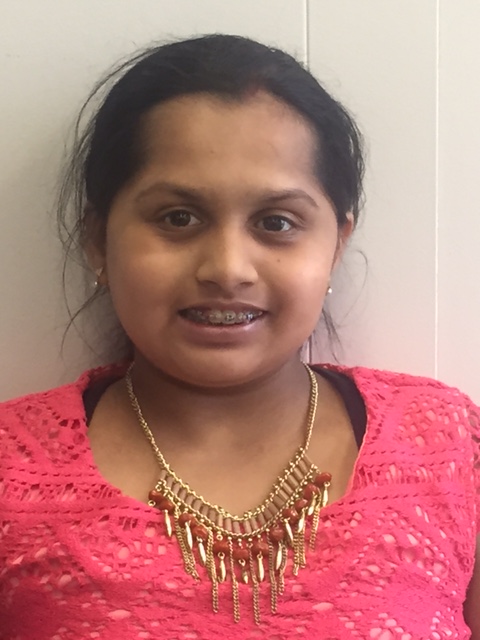 Name: Vikasini Veerni Goes by: Viki Veerni

Email: VikiVeerni@insight.rr.com, vvvandhana@yahoo.com

Age: 14 Grade(Fall 2015) - Freshman at Olentangy Orange High School

In-school pursuits - Robotic club, Math Counts, Marching Band (percussion)

Extra curricular pursuits: Classical Dance (Bharatnatyam and Kathak) Music (Carnatic music), Youth Volunteer at Vindhya Cultural Association Hobbies: Cooking, watching TV, Robotics What do I want to be when I grow up:

My first choice is to be a physician, I want to specialize in OBGYN so I can work with underprivileged moms to be.

My second choice is to pursue a career in engineering, in areas related to medical science and research.

Why do I want to be a CRC ambassador:
I am going to be a freshman in high school this fall and I wanted to reach out and through volunteering activities learn about real life and how I can help. When my mom I learned about about CRC and the CRC Ambassadorship program , I was immediately interested because it gives me an opportunity to be involved in science projects and also volunteering. I checked out the website and I especially like what I read about recycling electronics and also adopting a school and helping kids that want to be in school, but do not have much. I would like to help in any way I can. I also look forward to learning to be a helpful, productive, kind citizen and eventually.
Honors and Recognition:
School finalist in Geography Bee, 2014
Member MathCounts club – 2012-2014
Member Robotics club – 2012-2013
1st prize winner, FIA Dance competition – 2009
2nd Prize winner, FIA Dance competition - 2010
3rd Prize winner, FIA Dance competition – 2011
1st Prize winner, Vindhya Cultural Association Dance Competition – 2015
2nd Prize winner, Vindhya Cultural Association Essay Competition – 2013
Special Prize winner, Vindhya Cultural Association Band Competition – 2014
2nd Prize winner, Vindhya Cultural Association Band Competition – 2015
1st Prize Ribbon, Ohio State Fair, Robotics – 2014
Performed in multiple Columbus Tyagaraja Aradhana since 2008
Participated in Music Quiz competition in Columbus Tyagaraja Aradhana in 2015
Drumline member, Orange Pioneers Marching Band – 2015-2019
Participated in 3 Friday Night Live shows of the Orange Pioneers
Band member since 7th grade
Middle school Choir member – 2012-2014
Performed Kathak at Indian Springs Elementary School as a cultural ambassador – January 2016

CRC India ADOPT-A-SCHOOL Program
Quick Links
Follow Us:





Free items for Charities:

Project Impact & News: