CRC Ambassador:Hyndavi Anksapuram
| | | | | | | | | | | | |
| --- | --- | --- | --- | --- | --- | --- | --- | --- | --- | --- | --- |
| | Profile | | | Team Members | | | Fundraising | | | Service Project | |
Propfile
Hyndavi Anksapuram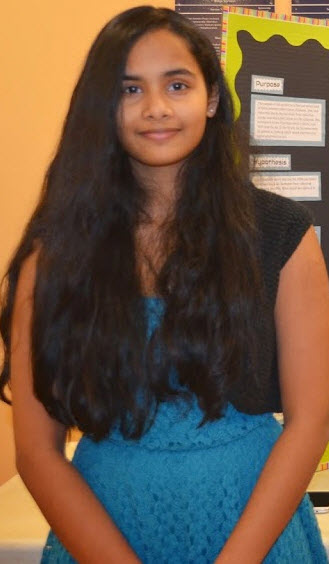 Name :Hyndavi Anksapuram

Grade:9, Dublin Coffman High School, Dublin, Ohio

Honors and Recognition:
I'm 14 years old, and currently an 8th grader at John Sells Middle School. I will be attending Coffman High School next year for my freshman year.
I have played the flute for 3 years in my school's band, and have participated in the Honors band. I will continue to play the flute for my freshman year. I have also played tennis for 5 years, and two of those years(7th and 8th grade) I spent playing for my school's girls tennis team. During my 7th grade year I was asked to play at the invitational pickerington tennis tournament on behalf of my school.
I was also voted by the girls tennis team and coach, to represent Girls tennis (individually) on the Athletic Council at my school.I am also part of the Sells Track and Field team this year. Adding on to music and sports, I am also very interested in science and technology.
I have participated in the annual OAS science Fair for two years now, and went to States both times. (Unfortunately, only high schoolers qualify for regionals) I have done my research for my science projects with the ESL lab at OSU. For both projects I received the Alcatel Lucent-Technology innovation award. Adding to my science experiences, I was also invited to participate in the OAS annual meeting. Some of my strengths are public speaking, working with various groups,multi-tasking, and leadership. Since the 2nd grade I have participated in the peer buddy club, this is a club where a student can sign up to help other students with disabilities throughout the school day.
As for community service, I volunteer at my local library, and I also help with school sporting events. As you can tell I don't have much experience with community service, but I am very excited to volunteer my time and efforts for community service and also learn as I grow on what I can do to make a difference. My goal in life is to become a radiologist, but also help anyone I can by doing anything I can.

CRC India ADOPT-A-SCHOOL Program
Quick Links
Follow Us:





Free items for Charities:

Project Impact & News: