CRC Ambassador:Sanju Priya Nandimalla
| | | | | | | | | | | | |
| --- | --- | --- | --- | --- | --- | --- | --- | --- | --- | --- | --- |
| | Profile | | | Team Members | | | Fundraising | | | Service Project | |
My Service and Education Profile
Sanju Priya Nandimalla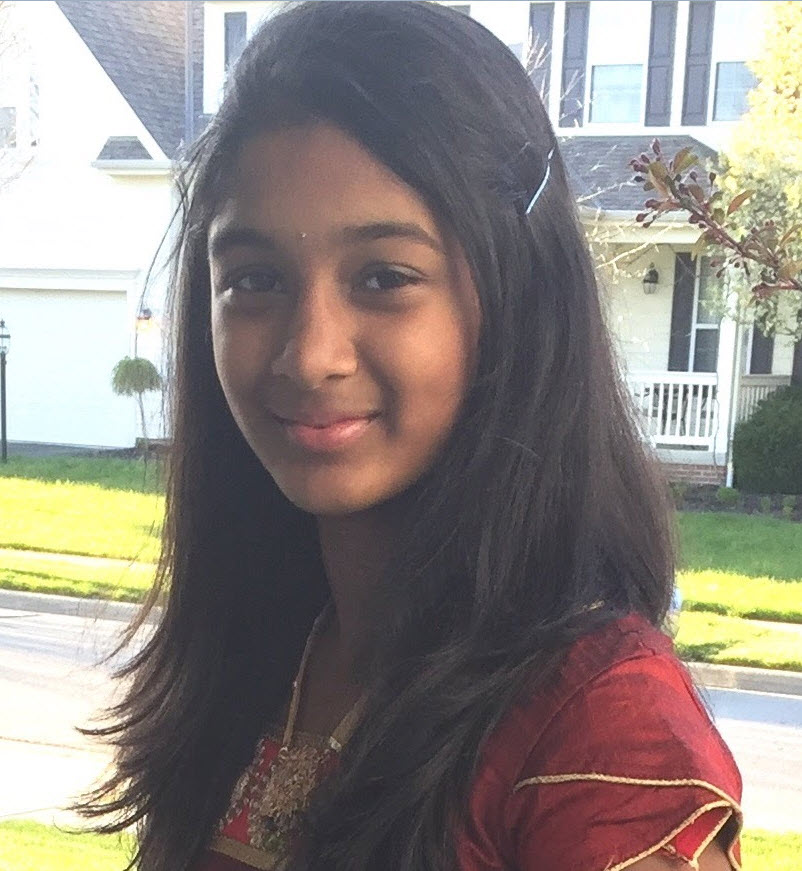 Name :Sanju Priya Nandimalla

Grade:7th at McCord Middle School, Columbus, Ohio

Honors and Recognition:
Received Kumon excellence award for being a grade level ahead - 2009
Volunteers in Safety Patrol every morning for safety of kids who walk into school - 2013 to present
Gifted in Worthington City Schools for reading- 2011 to 2013
Was 6th place in Community First Lego League Robotics - 2013
Recognized by school teacher for the Mary Cassatt presentation - 2013
Qualified as Top 10 in Miss Teen Columbus Pageant from Ohio for Pre-Teen and got offer letter for national at TX - 2014 Leadership Activities
Bluffsview Archery Team got selected to shoot in NASP National Tournament - 2014/2015
My art got selected in the entire school and printed on the yearbook front cover page of Bluffsview Elementary school - 2012-2013 & 2015-2016 years
My art got selected in the entire 5th grade and printed on the yearbook back cover page of Bluffsview Elementary school - 2014-2015
Finalist in the NASP Archery National Tournament with the team in Louisville,Kentucky - 2015
I am assigned Kindergarten helper to work with students on several things like behaviour, manners & respect at Worthington schools - 2014 till present
Learned Kathak in classical dance - 2009-2012
Got opportunity to share with the community to perform traditional classical Kathak at FOLCLOR HISPANO organized by OSU - 2011
Learning carnatic music - 2010 to 2016 (present)
Many awards from Ratanpur Dance academy - 2009 to 2012
Learned Telugu Language and Hindu Dharma at Bharatiya Hindu temple - 2011 - 2014
Won 1st place in FIA (Federation of Indian Association) dance competition with Shami Srivastava-2010
Participated and won in a few Art competitions at local Vindya,TACO- 2013-2016
Won 1st prize at The Vindhya Association art competition - 2014
Won 1st place in the Worthington Fall Fun shoot archery tournament - 2014
Won 2nd place in archery league (Bluffsview Elementary) - 2014
Won 4th place in archery league (Bluffsview Elementary )- 2015
Won 1st place in FIA (Federal Indian Association) Dance competition - 2015
Won 2nd place in TACO (Telugu Association of Central Ohio) Art competition - 2016 (present)
Won the Grand champion prize with team at WYB (Worthington Youth Boosters) volleyball tournament - 2015
Is currently participating in WYB basketball - 2016 (present)
Participated in several volleyball sessions in Buckeye Volleyball Academy - 2014
Participated in NRIVA Super Singer competition and other cultural activities- 2015
Participated singing in many local TACO conventions- 2014 till present
2 years in a row our team won in Volleyball Leagues in WYB (Worthington Youth Bosster – 2013-2015
Presented several Science Fair projects at worthington schools , Sai Baba Temple & CRC - 2012 to 2016
Participated in singing competitions in local Dhvani (India Performing Arts Society of Central Ohio) , TACO (Telugu Association of Central Ohio), TANA (Telugu Association of North America), and Vindhya Association - 2010-2016 (present)
Volunteered at North West Worthington Library in kids summer reading program - 2016
Winner of ATA singing competition - 2016
Volunteer Experience
My passion is to make it into the Varsity Volleyball team and be very successful in athletics. Apart from that, I would also like an academic goal like becoming a valedictorian and getting many college scholarships. I also wish to become a doctor apart from athletics. I wish to achieve all those goals and succeed in life.
I think the Community Recycling Campaign is a good idea because just by doing small fundraisers like this, we can get ourselves, and inspire other people to change the world. We can save the planet by doing this because if we didn't recycle, we would have too much trash in our dump. But now since we recycle, people have been able to make new things out of old cans, bottles, and much more. Lately I have been seeing not only families, but communities, doing this by our side. But just to make our world a little bit better, I am willing to participate in this program. I hope more people choose to do this for our people.

CRC India ADOPT-A-SCHOOL Program
Quick Links
Follow Us:





Free items for Charities:

Project Impact & News: