CRC Ambassador:Sneha Bhaskarla
| | | | | | | | | | | | |
| --- | --- | --- | --- | --- | --- | --- | --- | --- | --- | --- | --- |
| | Profile | | | Team Members | | | Fundraising | | | Service Project | |
My Service and Education Profile
Sneha Bhaskarla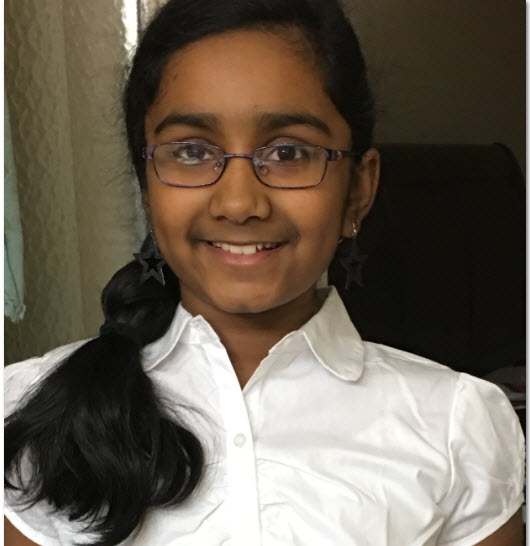 Name :Sneha Bhaskarla

Grade:5th, Glacier Ridge Elementary

Honors and Recognition:
Gifted in Math. I learn math 1 or 2 grades higher than my actual grade
Volunteer Experience:
I volunteered at the Ronald McDonald house where I baked and made cards to make them feel better.
I volunteered to cleanup our school everyday after school is over and everyone is having free time.
I raised money in various programs that my school is helping such as, flower stores, the school itself, bakeries, Welcome Warehouse (which I have done for last 3 years).
I also raised money for Der Dutchman Fundraising.
I helped design the new playground, with my teacher Janet Disilvestro
Interest and Activities:
I am an avid swimmer, ice skater and love competition.
I play the violin and piano.
Participated in FIA, TACO, SACO multiple times
Awards and Special Recognition:
Won a prize for my invention idea in the Invention Convention-2016
Won the Best Presentation Award at the First Lego League Robotics -2015
Participated in Destination Imagination-first grade.

CRC India ADOPT-A-SCHOOL Program