CRC Ambassador: Harshini Somisetty
| | | | | | | | | | | | |
| --- | --- | --- | --- | --- | --- | --- | --- | --- | --- | --- | --- |
| | Profile | | | Team Members | | | Fundraising | | | Service Project | |
Propfile
Harshini Somisetty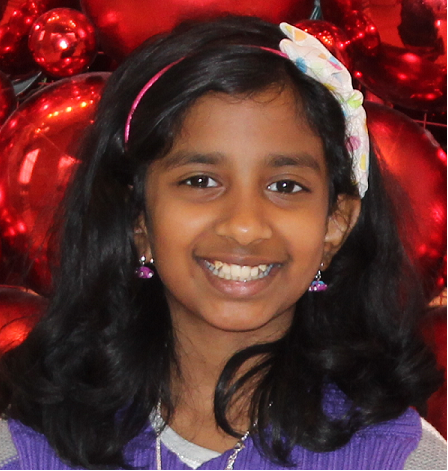 Name : Harshini Somisetty

Grade:6th at John Sells Middle School, Dublin, Ohio

Honors and Recognition:
Semi-finalist in the Global Innovation Award at the World Festival Competition for First Lego League Robotics – 2015
Identified as Gracious Professional in First Lego League Regional, State and World Competitions
Got recognized for the Dublin Community Champion's Award - 2014
Was 4th place in Ohio and 18th place in nationwide for Math Kangaroo competition – 2014
Was 4th place in Ohio for Math Kangaroo competition - 2015
Talked to State Board of Education about Robotics and recognized with Governor's certificate- 2015
Gifted in Dublin City Schools for mathematics and language arts - 2012- Present
Qualified for 8th Grade Math for 2015-2016 school year
Finalist in International community (NATA- North America Telugu Association) singing competition in Houston, Texas – 2012
Won 2nd prize in Vindhya Musical Band Competition - 2014
Finalist in International community (TANA- Telugu Association of North America) singing competition in Detroit, Michigan – 2015
Performed singing in local TACO (Telugu Association of Central Ohio)
Qualified as Top 15 in NAM(National American Miss Beauty Pageant) from Ohio for Pre-Junior Teen among 400 girls - 2014 Leadership Activities
Talked to the Mayor's Wife about our school's (Indian Run Elementary) garden and donating vegetables to Dublin Food Pantry – 2014
Talked to State Board of Education regarding Robotics - 2015
Talked to Key Communicators Dublin group regarding FLL Robotics - 2015
Led Robotics sessions in AEP for Take Child to Work day - 2014
Helped special need students in peer buddy at Dublin schools in 2012,2013 and 2014
Volunteered to clean up the Ohio Little Miami River and talked with former Ohio Governor Bob Taft - 2015
Working with Indian Run Elementary school to led a session for younger girls regarding STEM activities for school year 2015-2016



Community Recycling Campaign is an excellent program to do. I have always been strong on the words "Recycle and don't litter". Every time there is litter on the ground, it bugs me, especially if they are cigarette buds. The whole world should respect Mother Earth because, without her, we would not have a home. I have also always liked to help charities because I think they are no different than us, and it's just how much money they have. They too have the same feelings and heart as us, so this is a great chance. It is even a great link to this year's robotics project - "Trash Trek". It can be an outreach project for us. So I am very proud to be doing Community Recycling Campaign.

CRC India ADOPT-A-SCHOOL Program